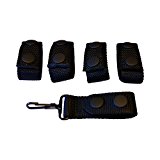 List Price: $ 19.99
Price: [wpramaprice asin="B01MA54MRN"]
Product Features
INCLUDED PER PACKAGE - 4 Regular belt keepers with double metal snap buttons plus 1 double snap keeper with all metal key holder in each package. Works on both 2" and 2.25" Duty Belts
IDEAL FOR - anyone working in the Enforcement industry this includes... Police Security EMT Fire Fighters Corrections Jail Guard Sheriff Deputy Constables Armoured Vehicle & Ambulance Drivers. Also used in construction industry where pouches are attached to free floating belts.
HIGHLY FUNCTIONAL - Keepers work great to reduce slippage and movement or migration of accessories on free floating belts along with keeping outer belt attached to inner belt preventing sagging
Each keeper is 7.25" X 1" unbuttoned and key hook keeper is 4.75" X 1" buttoned. Both are designed to fit 2 - 2.25" belts.
Product Description
In the past, many belts would sag and move around while around the waist of an officer while they were engaging in a physical activity. Belt keepers wrap around the duty belt and trouser belt, this ensures that the belt stays in place, even when the officer is taking something from the belt or engaging in an altercation with a suspect. These belt keepers are up to 50% lighter than leather but with the same crisp professional appearance of premium leather. With the combination of light weight ny
[wpramareviews asin="B01MA54MRN"]