Complete Guide To Punching Bag
Types of Punching Bag  
Punching Bag Types 

There are various types of punching bags with different benefits. You need to make sure that you choose the most suitable one that will best fit your training requirements.  

This website will show you all kinds of punching bags in the market so that you can know more about their differences.
Hanging Bags
Typically, you hang the punching bag from the ceiling by connecting it to the wall with a mount or utilizing a heavy bag stand.  Since the hanging bag is hung with a chain, it needs to be rather strong so that it can hold the bag for a long time.
The most significant concern with hanging a punching bag is that you typically need to drill into a ceiling (in case you do not have a mount or a stand) to appropriately and safely secure it.  Another concern is that when you place the bag with the ceiling, you cannot quickly alter its relocation.  Besides, unlike at a gym, your home may not have a space for an exclusive training room.
Standard boxing bags are really reliable for training martial arts striking, and they likely provide a relatively much better training experience.  You can strike it with punches and kicks and the punching bag will tend to move a little when punched/kicked, as the gravity center (GC) is more in the middle of the bag.   As such, you will be able to practice your speed and timing because the bag will be swaying to and from with each strike.
Standing Bags
Standing-type punching bags are relatively different than typical ones in that they have a base that the bag sits on.  Since you don't have to drill it into the ceiling or even you don't have a stand or a mount, these types of standing bags are much simpler to set up.  With a freestanding-type punching bag, you can easily move it around
and put anywhere in a room (for example, a garage) and train with it and then move it out of the way when you're done.
Most standing bags' bases are filled with either sand or water so that the standing bags are stabilized.   Once filled, the weight of standing bags has varied, normally around 250+ lbs., which is generally sufficient to keep the standing bags from moving excessively when struck/hit with hard punches and kicks.
With a standing-type bag, you do not get the same motion as a hanging bag.  Since it does not have a chain to hang on, it does move differently from the hanging bag.  In addition, the gravity center (GC) is a bit different and is where the base and bag meet.  So, if you get used to a typical hanging bag, you may need to take time getting conversant and comfortable with a standing one.  Many people prefer choosing freestanding bags for home usage due to the fact that they give good benefits.  You may want to check out our product reviews so as to make sure it will work well for you.
Muay Thai Bags (Kick Boxing) 
Muay Thai heavy bags might look like standard heavy bags; however, they are not exactly the same.  They look much longer and thinner, as they are specifically designed for kicking.  You can certainly punch them; however, they are not as great to do so as other punching bags.
Normally, Muay Thai-type bags are a bit longer and heavier, having on average a weight of 100-130 lbs., as they are required to be much stronger to manage hard leg strikes which tend to move bags more than punches.  Be mindful not to get the heaviest bags available because they may hurt to hit and won't move sufficiently.
Nevertheless, there are some challenges that these kinds of bags also need to be hung from a ceiling or mounted to a heavy bag stand in order to train with.  Simply make sure you actually take it into consideration prior to your purchasing one if you just simply want a boxing bag, as they are not suggested to use.
Tips to Choose a Punching Bag

  
If you are new to boxing training, choosing the best punching bag can be difficult.  There are certain criteria that you need to think about prior to getting a punching bag.

The most crucial criteria will include weight, cover material used, filling of the bag, and especially your training goal/plan.

Although there's no such thing as a perfect bag, there are quite a number of good ones for you to choose. So, make sure that read our suggestions below to understand these criteria before you buy a punching bag.

Heavy punching bags have a range of sizes; a perfect weight is around 70 pounds for a small-sized fighter and 80-100 pounds for a larger one.  Choosing a punching bag with around half of your weight is a norm.  Getting the proper weight is essential since the more resistance the bags can offer, the much better it can be in establishing power and fine-tuning boxing and kicking techniques.

At the very same time, you do not wish to get a bag that is excessively heavy for you.  Building and improving the ability to manage your speed and timing is one of the most important benefits of training with a punching bag.  Whilst you do not desire a punching bag to move too much when struck/kicked, it really can be useful if it moves a little so that you can practice your timing better.

It is crucial to keep in mind that the weight of heavy bags only is proper for typical hanging bags, as standing punching bags are tied to heavy base on which the bags sit.  You can find a variety of recommended punching bags on this website.
Filling of the Punching Bag

 
There are different types of materials that have been used as fillers in punching bags, and it's essential that you select a bag with proper/quality filler. Typically, sand, water, fabric, fibers, synthetic materials, or even used clothes are used to fill in punching bags.
Numerous punching bags are filled with sand. Sand is good filler, as it typically offers a good feel of striking experience. Besides, it would be relatively easy to get a replacement in case the punching bag is leaked.   All you need is simply buy more sand. The one huge unfavorable point of using sand is that it can potentially sink and mass up on the bottom of the bag. As a result, the bottom would be rock-hard causing an imbalanced weight proportion.  It would get worse if you strike the bottom of the punching bag over and over.
Water bags normally give you a constant striking experience, as at any point of the punching bag you kick and strike, it tends to give the same resistance.  In addition, some other materials such as fabric and fiber are also good alternatives, depending upon the punching bag type.  If you want to purchase a punching bag, you may want to consider famous brand names such as Everlast, Century, Title, among others, as they always used and developed high quality filler materials.




Essential Punching Bag Training
Heavy Bag Drills

 
If you want to improve on your precision, endurance, speed, and cardio, you must have heavy bag drills.  The heavy bag drills are quite important for boxing or even martial arts training.  You will need a professional guidance and supervision of a well-qualified trainer/instructor for your heavy bag drills in order to become a better fighter and increase your athletic ability and help you in real sparring matches with opponents.  A well-planned training program will result in improvement in a short period of time.  Also, you need to build a habit of keeping good record of number of repetitions for each training exercise to monitor your progress so that you can stay focused and train to the best of your ability.  punching bag
Before you begin your heavy bag training exercises, it's a must that you invariably have a proper and correct warm-up so as to mitigate the risk of injuries to your legs, wrists, and fingers.   Also, you have to remember to deeply breathing upon doing these drills.
Please make sure that you use only a good quality punching bag for better training experience results.  We have researched and selected on the best ones for you, which you can find the selected brands on this site.
Punching Bag Drills 
To yield better results, you may need to include a steady routine of heavy bag drills in your training programs.   Every fighter's goals are to improve and develop a great combination of precision, speed, and endurance.   Therefore, punching bag drills are very important and need your constant efforts as well as a high inspiration level.
There are five crucial punching bag drills in order to improve and increase your speed, precision, power, and endurance, explained below.  punching bag
Quick Punch Drill 
This is one of our preferred drills and is perhaps one of the very basic drills for all kinds of contact sports, including boxing and mixed martial arts.  The aim of this quick punch drill is to build speed and maintain a high level of precision.   While utilizing a heavy bag, you need to punch quickly rotating between right and left punches with maximum efforts while targeting at an imaginary bull's-eye on the bag so that your punches don't get slipshod.
Kicking Drill 
It's important that you develop good and proper form of kick techniques so as to yield maximum impact.   As mentioned earlier, you need a professional advice and guidance for your training.  You can ask your trainer about how to use correct form when you strike the bag.  punching bag
Using a punching bag for your kicking drill, you can begin the kick with your right leg, then change with a kick from your left leg.  Please repeat this drill for a couple of minutes, and afterwards take a rest for 30 seconds.  Also try to kick higher to the maximum height of your kicks.  Although you set a higher target every time you practice this drill, you should not overstretch yourself at the very start trying to kick too high too soon which may put you at risk getting injured.
Precision Drill

 
Mixed martial arts is all about accuracy developed on an excellent technique base, which will help you to have swift and crisp blows.  If your strikes have a high level of accuracy, you will have a competitive edge over your opponent in a fight match.  punching bag
For this precision drill, it's suggested that you vision 3 hitting marks anywhere on the bag at which you want to target, or simply masking-tape to specify the spots you want to target at.  Try to strike the targeted marks quickly together with left and right punches, ensuring that you keep precise and well-paced between the punches.   Repeat this drill cycle for a couple of minutes and rest for 60 seconds afterwards.   It's highly recommended for more advanced trainees that targeted marks are changed frequently and adding strikes and kicks.  punching bag
Triple Strike Drill

 
This flexible triple strike drill is composed of 3 basic combinations that can grow into powerful patterns of strikes and fighting technique, depending on the ability and physical capability of the trainee.  Preferably, beginners of mixed martial arts should begin with 3 strikes drill to build a base technique and develop further from there.   For example, they can use the heavy bag and do a combination of 'a right kick-a left hook-a right cross'.  Proceed with the opposite combination ('a left kick-a right cross-a left hook'), and make sure to maintain the same pattern.  Then, repeat these combos for a couple of minutes and afterwards rest for about 60 seconds.
Pyramid Drill

 
Pyramid drill is one of the most effective drills for mixed martial arts trainees.  This kind of drill is developed to exhaust you out rapidly, but if you want to increase your levels of endurance for fighting and training, the pyramid drill is perhaps one of the rewarding drills.  When striking the heavy bag, kick it with your right leg once, then proceed with 2 more kicks, then 3, then 4, and wrapping up with a maximum of 5 kicks.  Then, go on with the same leg, kick 4 times, then 3, then 2, then 1. Change to the left leg and continue with the same pattern.  You can challenge yourself to increase the maximum number of kicks as well.   punching bag
Choosing Proper Punching Bag

You need to choose a punching bag that best matches with your training requirements by considering its weight, cover product and filling materials. 

In case you want to focus on heavily training with kicks than punches, a Muay Thai bag can be a good choice, as it is thinner and longer than a typical hanging bag.  A typical hanging bag is good for high/low kick practices.  However, if your plan is to focus on cardio training not hitting the bag hard, you wouldn't need a heavy bag.

  punching bag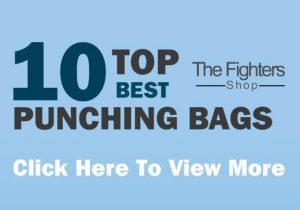 So, if you are not sure what type of training you want to focus on, it will be best if you just buy a standard heavy bag.  Recommended brands/types include Wavemaster XXL which is a good selection to gain good results for all sorts of training.  Or if you simply want a perfect hanging bag, the 100-pound Everlast C3 Foam Heavy Bag is highly recommended.
If you want to focus on practicing striking and kicking or even just getting a great workout, a heavy punching bag training will be relatively effective.  However, if you are beginners, you may want to consider finding drills that will best match with your requirements so that you will develop your technique while having fun.