Best Boxing Headgear - Top 10 List
Best Boxing Headgear: When you want to purchase a boxing headgear, it's very important to choose a high quality product, as opposed to getting a cheaper one.   In most cases, the expensive boxing headgear will offer the best protection.  You can find more information about boxing headgear here.
#1
WINNING HEADGEAR FG2900 is one of the most comfortable and protective full contact head gears on the market. Its injected foam, overall visibility and light weight fit of Winning is still head and shoulders above the rest on the market.
It's indeed professional grade sparring head gear.  We can say that it is the best solid headgear available for hard sparring.
This headgear is very well made and fits well - if you get the sizing right it will not slip, even during amateur boxing competition and sparring. It does not contain gel. No headgear completely reduces the impact of punches.
This headgear will last you forever, basically.  Just clean it after every use.
---
PROS:
At only 1.3 pounds, it is one of the lightest headgears around.
Offers protection from bruises & headaches.
Great visibility, it offers the perfect view while boxing.
The artificial leather inside the headgear gives comfort to the head.
The cheek guards protect your nose during boxing.
CONS:
Price is on a high range. Although this might cost you more than other cheaper ones, this is definitely worth your investment.   Saving up, using more money for a pro-training will never bother you as long as your protection is assured.   Fighting or boxing is not a joke, equip yourself with a high quality headgear to ensure protection during the fight.
The cheek protector area gets wet pretty fast.
The cheek protector often touches the side of the nose.
The padding is not thick enough and can reduce the visibility levels.
---

#2
Everlast Amateur Competition Headgear is designed to the USA Boxing specifications and for official competition use. Many boxers have used it, and it's made with all-leather material that comes with approved 4-layers' foam.  It is smooth, and on the inside, the lining is sweat and moisture resistant.  Additionally, it is easy to clean, and it comes in all sizes and with three color options.
The hook-and-loop chin strap makes the headgear easy to wear and provides a comfort fit. Besides that, the high-grade leather finishing gives a longer lasting and endurance to the headgear. The overall weight is about three pounds and is considered lightweight. This allows easy movement of the head and gives the boxer better reflexes.
The visibility provided from this headgear is good. It has the optimum thickness of the padding at the front of the face. This gives the boxer a clear vision, and at the same time, the cheek protector on both sides of the face bent at the correct angle, and it does not block the vision.
#3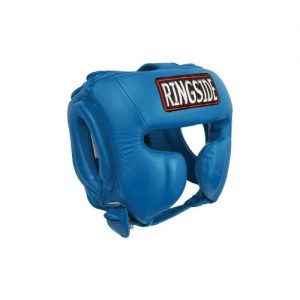 Ringside Master's Competition Headgear can protect your head, face and nose from deadly punches. This is an unusual product compared to other headgear because it's thickly padded and made of high quality leather connected to a chin strap. You will have no bleeding problems in your nose because it is designed in a perfect manner to prevent your nose from abusive punches.
---
PROS:
You can enjoy the valuable golden benefits when wearing it.
You feel more cozy when you wear it. You will be courage to fight back the enemy if you are cozy.
Acceptable warranty for your product, even if you damage your helmet within the period of warranty you can have a new one freely.
Original leather that can last decades. Even if your house expires, this leather will never expire.
High protection for the face. So you can get less risk of being wounded.
Different colors so you have high choices.
CONS:
Low visibility
Too much of sweating can make you tired.
Too heavy, so you can't fight quickly.
Chin buckle may cramp your neck, which gives you a vast pain.
May not affordable for some fighters because the price is on a high side.
---
#4
Rival Boxing Competition Headgear is approved by USA Boxing.   Its design is very innovative, using the best materials such as full grain leather.  The leather is high quality and every strap and panel of Rival's boxing headgear feels solid.   Its "dual density" foam padding provides a great cushion against punches.  When it comes to comfort, its inner Suede lining made of microfiber really delivers the most comfort.   There are 3 ways-Velcro chin strap to ensure a sheltered fit and secure safe experience.   There are 3 colors available: black and white, blue and white, and red and white.
#5
If you are a boxer, then the RIVAL Boxing RHG2 Leather Ultra Sleek Headgear could be the perfect fit for your needs.   The headgear is ultra sleek and thin in design.  Its 1.0mm shell is made of cowhide leather, giving it superior convenience. It also has a water-resistant, soft inside liner, which gives it extraordinary comfort.   The headgear weighs 1lb and has adjustable straps for keeping it secure when one is training.   It comes with an adjustable, leather chinstrap to offer a custom fit to different athletes.  It's especially perfect for those who are on a limited budget.   It offers superior protection and comfort at a relatively low price.
---
PROS:
Leather inside, making it comfortable.
Absorbs energy well.
Fairly light and thin
It does not slip.
It has excellent visibility.
Does not hold odor.
Offers great protection to the cheek bones.
CONS:
Its appearance is not attractive.
Poor Nose protection
Small for people with big heads
---
If you are a beginner and looking for robust training gloves at cheap prices, Sanabul essential gel boxing kickboxing training gloves are excellent for you.  These are soft and protective gel based gloves that does not harm or injure your hands.  Its prices are easy on your pocket unlike the other brands which are over $60
#6
Title Platinum training head gear is a massive improvement and offers best shock absorption and nose area protection.  This is attributed to good inside padding and soft, smooth inside leather lining that brings out a more relaxed fit.
---
PROS:
Good quality leather.  The quality leather offers great durability of your headgear.  It gives you value for the money invested in it.   Also the quality of the material used to make this headgear assists in the overall user protection from the shock.
Hook-and-loop strap.  Title platinum training headgear is fitted with great hooks and loop-straps that offer the user quality and precise head fit.  This is to make sure that everything is intact during training or sparring so as to have proper concentration.
Slick inside.  This headgear is slick inside which make is great for cleaning after using it.  You can easily maintain a high standard of cleanliness.
CONS:
Inside is too slick.  This makes it uncomfortable to put on after some hours of training as it shifts a lot.
Cheek protectors affects vision.  Vision is usually the problem that is brought up by cheek protection gears, but after some time, you will get used to it.
---
#7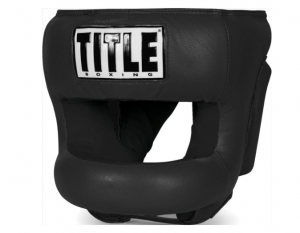 TITLE Boxing Face Protector Training Headgear is a robust and excellent leather outer shell headgear that guarantees protection against punches.  It is available in either black, white, gold or red colors. The headgear is a product of Title Boxing. The internal leather lining that keeps me comfortable during matches and workouts.
Features  best boxing headgear
Has super, thick-layered foam padding that provides protection against hard punches and helps in absorbing shock.
Comes with an interior leather lining to provide ultra-comfort.
The foolproof molded face bar to your face against blows.
Has sure-fire visibility.
Adjustable, thanks to the adjustable lace tie top.
---
PROS:
Cheap compared to its high quality
Picture perfect for any head size and fits without shifting
Superior materials for shock absorption
Less bulky
CONS:
Extra padding and frame reduce span of visibility
The padding and the frame make you susceptible of blows since it make your head enormous
---
#8
TITLE Boxing Competition Headgears are specialized products with their own unique features officially acceptable in the USA . They are very protective as per the design; the four-layer safety provides protection. They are made of leather on the outer side and under cover is a smooth liner which necessitates easy cleaning and drying .
They are flexible as the upper, back and chin system of lacing is adjustable. They provide ear protection having several air outlets that release air.  Also, smooth suede covering, smoothly shaped design and wavy cheek protectors provide the natural feeling.
The most crucial benefit of these headgears is the maximum protection it stipulates that every person would want to enjoy. They are much flexible allowing one to adjust as per their head size. They also allow for excellent visibility compared to other types of headgears.
Much more they are designed to be lightweight, reducing the rate of exhaustion from putting on massive gears.  They provide excellent service due to their good padding and nice coverage. The distinct colors serve every need.
However, the chin strap may give some discomfort especially when one keeps their chin down from a neutral position. The metal ring clip makes it tedious putting on and taking off the headgear. The ring as well facilitates rusting when it comes into contact with sweat.
#9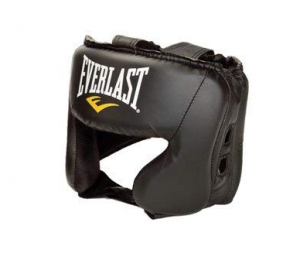 Everlast Everfresh Head Gear is a speed bag made of rugged and resilient Everhide.  Its cheek protectors provide optimal safety and excellent visibility.  The adjustable chin strap and closures for secure really fit most adult head sizes. . It comes in brilliant black.
---
PROS:
You can see very well during sparring
It protects most of your face from cuts and/or bruises
Chin Strap is pretty durable
Does not feel cheap whatsoever
It gets a little sweaty after heavy use (absorbs the sweat too much)
Limitations on adjustments
Ear holes are a little too tight, but manageable.
#10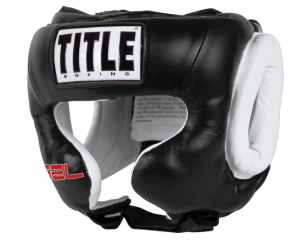 The TITLE Traditional Training Headgear has an extra smooth inner lining making it comfortable by user to use.   Its material gives it the feature.   It has straps on the outer coating that can be adjusted making it much ideal. Its firm grip on the head makes it safe to use.  It has a model in such a way that it's very efficient in wearing on and off.    It provides wide coverage on the padded surface.  It's most ideal for boxers and those in fitness and martial art. There are varieties of sizes and colors. The prices are pocket friendly.
Pros
It's thick and safe to use.  best boxing headgear
It has a standard quality making them more efficient and price worth.
It absorbs shock from blows; hence, it's most preferred by most trainers.
Cons
Since people have different head sizes, the product may not be fit for everyone.  Mainly, large and medium sizes are available.
best boxing headgear, best boxing headgear, best boxing headgear, best boxing headgear top 10 list, best boxing headgear 2019