How To Choose Best Boxing Gloves
Boxing Gloves-Best Buying Guide : How do you choose which gloves are right for you?   Consider how often you will be using the gloves and for how long.   If you plan to box regularly, for example, twice a week or more, then it would be wise to invest in high quality premium boxing gloves.  Leather is best for heavy use, as it is much more durable than cheaper synthetic materials.  However, if you are only interested in becoming a casual boxer, a cheaper pair of gloves should be sufficient.
This site will guide you through the process of choosing the right brand, material, weight, fit, and even color for your boxing needs, so that you will be well-equipped with the right gloves when you enter the ring.  As with any type of apparel, when shopping for boxing gloves, you are faced with a choice between cheaper entry level brands or higher priced premium brands.
Glove Weights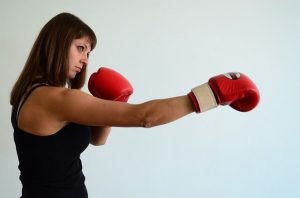 The weight of the glove depends on what you intend to use the glove for.   The heavier the weight, the more padding, the harder it is to throw punches, the tougher the workout you get.   If you are doing all round boxing training, you would opt for 14 oz. or 16 oz. boxing glove.    Women may opt for a 10 oz. or 12 oz. boxing glove. When sparring, you usually use a 16 oz. glove to protect the fighters from injury.
The heavier gloves will mean more weight for you to lift each time you punch. This can assist with developing strength in your upper body and will also give you a more powerful workout.
Lighter boxing gloves will be easier to lift; thus, enabling you to work on your speed. You will be able to punch faster with lighter gloves which will also help you work on your cardiovascular fitness.
So, when choosing which boxing gloves to buy, consider your body weight and what style of boxing you will be using them for.   For general speed and fitness work, the lighter gloves will be a good choice. For strength development, the heavier gloves should be your choice.
Sizes
Boxing gloves come in different sizes and different styles.   The size of the glove you choose will depend to some extent on the size of your hands and body.   The bigger you are, the easier it is going to be control heavier boxing gloves.   If you have a smaller body frame, then using lighter gloves will be suggested.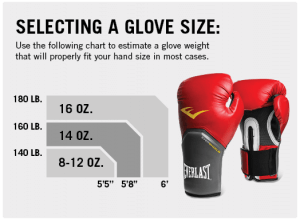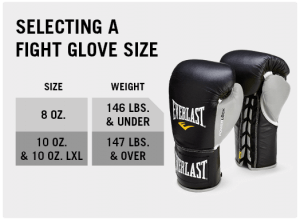 There are various sizes and weight, but you should remember that these two factors are not the same thing.   Often times, the size of the gloves does correspond with the glove's weight, but this is not true in all cases.   The weight of our boxing gloves should be chosen depending on the type of boxing method you are going to use.   In the meantime, the size of the gloves has to do with finding the best fit.
Overall, it is common for the gloves sizes to run in the sizes of small, medium, or large.   You will typically find 8 oz., 10 oz., 12 oz., 16 oz., 18 oz., or 20 oz. gloves.   Both 8 oz. and 10 oz. are more common for the competitive boxer.
It is more common to see a smaller size in a 12 oz., a medium in a 14 oz., and a larger size in a 16 oz.   Professional boxers that you find in the ring are typically using a 8 oz. or 10 oz. but fighters come in all sizes and are in various weight classes, meaning they require different sizes in boxing gloves.
The 12 oz. gloves are commonly for women and people who are training that have smaller size hands.   The 14 oz. gloves are simply for the average, while 16 oz. are commonly used for average sized individuals who are training.   The larger weight training classes will typically use the 18 oz. or 20 oz. gloves.
Keep in mind that everyone has different needs, has different hand sizes and so on.   You will want a tighter fit so that your hands will not move around within the glove. Consider that the glove will stretch the more they are used.   The best gloves in the beginning will not fit perfectly but will then stretch to fit.
Start off a little tighter.   Don't forget hand wraps!   Never purchase gloves without trying them on with wrapping your hands.   Without the hand wraps, if the gloves fit snug without them, they certainly will not fit with them.
Choice of Colors
boxing gloves-best buying guide 
The color of your glove depends on your boxing style. If you are a flashy "Pretty Boy" Floyd Mayweather, then go for a bright white. Or if you are a raw brawler like Ricky 'Hitman' Hutton, then go for a man black. Obviously, this part has no effect on effectiveness of your glove. However, it could play a psychological role in your fights and potentially work in your favor.
The Role of the Boxing Glove
There are two distinct types of boxing glove, competition and sparring.  Neither of these glove types is really designed for use with bag or pads which you should use bag gloves for, although you may get away with using boxing gloves and wraps for either.  However, this will reduce the lifetime of your gloves and potentially damage your hands over time
Competition gloves are smaller, usually weighing 10 oz. Their purpose is to protect the users' hands and wrists while fighting as well as to afford some protection to the opponent from cuts and a proportion of the blow.
Competition gloves are often of the lace-up variety and afford a tighter and more comfortable fit for the fighter. However, in training, this is less practical. Therefore, lace-up gloves nowadays bare mainly confined to actual competition.
Sparring gloves are usually between 12 oz. and 16 oz. to allow more aggressive sparring often full contact used in conjunction with headgear. As the name suggests, the gloves purpose if for boxing, kickboxing, and Muay Thai.
Construction
boxing gloves-best buying guide 
Bette quality gloves will use 100% cowhide leather for all the main areas of the glove. Many cheaper or lower quality MMA gloves use either synthetic materials or a low grade leather or leather/synthetic mix.
The quality of the strap/fastenings is a really important area to pay attention to. If left exposed, it will cause cuts and grazes to sparring partners. Make sure that Velcro is cuffed with a leather or synthetic piping.
Palms are usually leather, although some newer designs are beginning to us a "breathable" material to guard against the gloves rotting inside kit bags and to allow for faster drying after heavy training sessions.
Some boxing gloves have the thumb attached to the rest of the glove. This will ensure that your thumb cannot be stretched backward which is a fantastic safety precaution.
You might like to also consider grappling gloves if you are doing an interval boxing circuit. The grappling gloves have no palm which allows you to grip the bar to do chin ups, or to lift weights without having to take the gloves off. This means no time is wasted putting boxing gloves on or off and you can concentrate on keeping your heart rate elevated during your boxing circuit.
If you are buying in a shop, check the mold of the glove. If buying online, look for a trusted and established boxing gloves brand. Many MMA manufacturers are making a boxing glove to enter that market. However, many of them have nowhere near the pedigree of established boxing brands and the quality of their gloves is not comparable to the quality of their apparel.
Brands
boxing gloves-best buying guide
Like any apparel item, you have your premium brands such as Cleto Reyes, as well as brands that sell both premium and cost-effective gloves, such as Adidas and Lonsdale boxing gloves. Despite there being a considerable price difference, if you are planning to box on a regular basis (2 times a week), then it is worth investing in leather boxing gloves which tend to be more expensive. If you are training in various other boxing disciplines, such as Muay Thai or kickboxing, then a brand such as Twins will be best suited.
You may be surprised to find out how different the major brands of boxing gloves are from one another. But it will be better if you narrow it to one of a few. Most manufacturers (with one or two exceptions, notably Fairtex) are good at producing a certain type of equipment but are not so good at other types.
The two that get the most recognition for being widely different are Cleto Reyes gloves and Grant gloves, while brands such as Everlast, Title, and TKO are more moderate. The differences between these professional fighting gloves can make a big difference in how you perform in the ring, and all the way up to the top of the pro-fighting game. Each fighter has their own specific preference.
Cleto Reyes gloves are known as puncher's gloves, as the padding of Cleto Reyes gloves are evenly distributed including being found over the wrist area.
Grant boxing gloves are the opposite of Cleto Reyes. They have as much of the weight of the glove as possible directly over your hands, leaving you with maximum protection. Therefore, these gloves are commonly used by fighters who have been injured, damaged or brittle hands that are prone to breaking in the ring. The extra padding can help circumvent injury.
Additionally, Grant boxing gloves are used by many defensive fighters. The extra padding in the front of the glove fluffs up the shape of the glove a bit. This makes it easier to pick off shots and block your opponents' fire. These gloves can be easily spotted with their larger size and puffier shape.
As mentioned, the other brands of boxing gloves are harder to tell apart from one another. Everlast, Title, TKO and others generally fall in the middle or moderate range.   However, they are all good brands to choose, as well.
It's good to try and identify this as just because a brand makes good shorts does not mean it will make good gloves, as they are usually made in a different factor, often a different country!   There are many awful cheap imports made by manufacturers who have no idea about the sport and just copy anything they can find.
Look out for brands with some kind of pedigree in boxing or Muay Thai. Even some good manufacturers of MMA equipment don't make good boxing gloves, simply because they don't have any real knowledge of the sport.
If you are a beginner who is just entering the field of boxing you are likely confuse by the wide array of choices and what all of the terminology means.
Conclusion
boxing gloves-best buying guide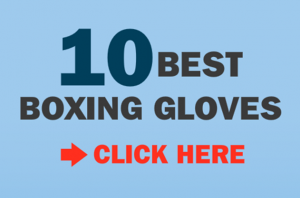 Deciding on the right weight of boxing gloves is often the most confusing part of the buying process. But it doesn't have to be. The weight you need depends on your body type and the level of protection you require. Keep in mind that a heavier weight will also provide a harder workout. As a general rule, most men opt for gloves with 14 oz. to 16 oz. weights, while women go for gloves weighing 10 oz. to 12 oz.
One thing that cannot be stressed enough is that your boxing gloves need to fit! Have you ever heard the expression "fits like a glove"? You do not want a lose fit. A boxing glove that does not fit won't pack much of a wallop. Boxing gloves tend to stretch with use. Therefore, it's a good idea to buy them a little snug.   If you will be wrapping your hands, be sure to bring the hand wraps with you when you head out to purchase your gloves.
Now, with all of this information, how do you make your final decision and choose that perfect pair of boxing gloves? Keep in mind the basic points that you need to factor in when choosing a pair of gloves, namely, brand, material, weight, size, fit, and color. If you are still not sure, you should get help from the pros, or a friend who is a boxer. Visit a local boxing ring, or go to a boxing equipment store to get tips.
Boxing gloves-best buying guide, boxing gloves-best buying guide, boxing gloves-best buying guide, boxing gloves-best buying guide, boxing gloves-best buying guide, boxing gloves-best buying guide, boxing gloves-best buying guide, boxing gloves-best buying guide, boxing gloves-best buying guide