Boxing Equipment : Complete Guide for Beginners
Boxing is becoming a very popular sport for both men and women. When you are just starting out, you might get a lot of confusing suggestions about what you need to ace this sport. One common advice given to beginners is to get all recent boxing equipment and gadgets in boxing.  This is believed to enhance one's performance.
However, this is not the case. When it comes to boxing, all you need is some protective gear, several boxing equipment and the right clothes.   Boxing clothes ought to enable you to make free movements and they need to be very comfortable.
Essential Boxing Equipment
Some of the boxing equipment you will need for boxing with a partner include; groin protector, chest protector for women, mouth guard, hand wraps, sparring gloves and a headgear.  This is a complete guide to boxing equipment to help you start the right way.
GROIN AND CHEST PROTECTORS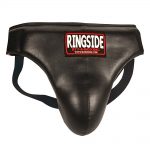 One thing you can be assured of when you start boxing is that at some point you are going to be hit by your boxing partner.   The groin is one of the most painful places a man can get hit during boxing.   For women, the chest area also needs to be protected since it is also very painful.   For this reason, it is very important to ensure these delicate parts are well protected before you face your opponent.
Guide to Choosing Groin and Chest Protectors
There are many types of groin and chest protectors in the market today.   This is why it is important to know what to look for in order to get the right product.  When it comes to groin and chest protectors, the first thing you need to do is to ensure the protectors fit you.   You need one that is not too tight and one not too loose.
The other thing you should look for is the adjustability of the waistband for groin protectors.   The waistband should be adjustable in order for you to choose the most comfortable fit.   The chest protector should also be adjustable at the sides.
Last but not least, go for a durable material such as leather.   This increases the life of your protector.
Factors to Consider When Using Groin and Chest Protectors
There are several things you need to put into consideration when using groin and chest protectors.
First and foremost, you need to consider whether or not the protector restricts your movement. If it does, you should probably go for another option.  The other thing you need to consider is the level of protection. You should not feel any pain when you are hit in the groin or chest area when wearing these protectors.  Last but not least, it is important to consider whether or not the protector stays in place when you are boxing.
MOUTH GUARD  boxing equipment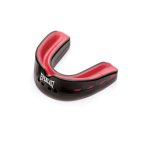 Mouth guards are important for protecting your mouth during boxing.   It helps you protect your teeth from falling out and your lips from being slipped open when boxing.   This is something you should not go without when considering boxing.
Guide to Choosing a Mouth Guard
There are two types of mouth guards you will find in the market today; the boil and bite type and the customized mouth guards.
The boil and bite mouth guard is made of a gel like material which when boiled, it becomes moldable and takes the new shape after cooling.   The user is required to boil the mouth guard before use then bite it.   This enables the mouth guard to take the shape of the teeth thereby offering protection.
Customized mouth guards are specifically designed to suit the shape of your teeth, they can have engravings of your name and you get to choose what color you'd like them in.   These are the better option especially if you are in a boxing competition.   However, there are some high quality boil and bite mouth guards as well.
Factors to Consider When Using Mouth Guard
The first and most important thing you need to consider is the fit and comfort of your mouth guard.   Make sure it fits perfectly and it feels comfortable in your mouth. If it does not, this could cause some serious injuries when you get hit.
The other important thing to consider when using a mouth guard is the size.   Go for a bulky type as this offers more shock absorption.




HAND WRAPS 

boxing equipment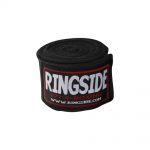 It's very important to take really good care of your hands and wrists.   There are so many small bones, tendons, and ligaments. You need to protect your hands with proper wrapping, proper protection, and proper technique.
In other words, you have to build in the care and longevity of your hands. These things are not smart phones or laptops you can upgrade them to the latest model you can replace them. It's not about the street fight, not about using your bare hands. So, in boxing to get good technique, you have to throw hundreds of thousands of punches to get that technique. You need to take care of your hands so that they can last long enough.
Taking care of your hands involves wrapping them properly wrapping them well. You need to get good quality hand wraps, which will provide good support across the knuckles and the wrist.
There are a few types of hand wraps, pro-style and Mexican style hand wraps, both come with various sizes and colors. When you buy the hand wraps, consider their size and elasticity that are most suitable to your requirements
SPARRING GLOVES  

boxing equipment
Sparring gloves are important because they offer protection to your hands.  There are different types of sparring gloves in the market today.   It is, therefore, important to know how to go about choosing the right one for you needs.
Guide to Choosing Sparring Gloves
When it comes to gloves, the first thing you need to consider is the type of boxing activity you plan on engaging in.   Once you have made the decision, talk to your trainer in order to get instructions on what you need to get.   Once this is done, go for a pair of sparring gloves that has the right size.
The type of closure is also something you need to consider since it determines ease of wearing and removing the gloves.   The material is also an important consideration. Leather is the best material when you are choosing sparring gloves.
Last but not least, make sure the gloves have high quality padding inside of it since this is what will determine whether or not your hands are protected.
Factors to Consider When Using Sparring Gloves
When using sparring gloves, you need to consider the fit and the comfort of the gloves when using.   It is also important to consider the ease of removing the gloves.
HEADGEAR 
boxing equipment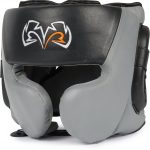 Headgears are very important because they protect your head during boxing.
Guide to Choosing a Boxing Headgear
When choosing a headgear, it is very important to ensure the head gear is of very high quality.   This is because the head is very delicate and a punch to the head can cause serious head injuries.   For this reason, go for headgears that cover most parts of your head, the ones that lace up in a very tight manner and headgears with as much padding as possible inside; these offer more shock absorption.
Factors to Consider When Using a Headgear
Some of the things you need to consider when using a headgear include; size, comfort, fit, air circulation and ease of removal, among others.
The easiest way to choose a proper size is to measure your head's circumference at around one inch above your eyebrows so that you can estimate a proper size of your headgear.   Also, you can simply use a measuring tape or string to wrap around your head, then you can get the measured size.
In conclusion, if you put all these in mind, there is no doubt that you need to get quality boxing equipment so that you will have maximum protection during boxing. Thus, it's important to consider spending more on high quality products as opposed to getting cheaper ones since in most cases, the expensive boxing equipment offer better protection since they have a high quality.
Recommended Headgears
TITLE Boxing Face Protector Training Headgear, Red
as of September 8, 2023 4:23 pm
Features
Excellent, top professional leather outer shell
Super thick, layered foam padding
Special suede inner liner
Padded, molded face bar
Fully adjustable lace-tie top, leather chin strap and hook-and-loop rear attachment
Ringside Fightgear Master's Competition Headgear (Red, Large)
2 new from $51.59
Free shipping
as of September 8, 2023 4:23 pm
Features
Durable leather construction
Hook & Loop rear closure for adjustable fit
Buckle chin strap
Cheek protectors guard face without obstructing vision
Provides nose protection
Fighting Sports Tri-Tech Full Training Headgear, REG
as of September 8, 2023 4:23 pm
Features
Precisely padded cheeks, forehead, ears, back of head and chin
Soft, durable and smooth inside liner
A trio of Fighting foams - sponge, high and low density - for maximum comfort, coverage and delivery
Constructed from select hides of full grain leather
Rival High Performance Training Headgear, Red, X-Large
out of stock
as of September 8, 2023 4:23 pm
Winning Headgear Fg2900 (Black, Medium)
out of stock
as of September 8, 2023 4:23 pm
Features
Medium(Japanese Size): 21.0-23.0inch / 54-59cm
Large(Japanese Size): 22.5-24.5 inch / 57-62cm
very light headgear 9.5oz
Made in Japan
TITLE Classic Traditional Training Headgear, BK, REG
as of September 8, 2023 4:23 pm
Features
Color: Black
Sizes: REG (S/M), L (L/XL)
Everlast Amateur USA Boxing Headgear with Cheeks-Blue-XL
out of stock

1 used from $258.04
as of September 8, 2023 4:23 pm
Features
Everlast Amateur Competition Headgear - Blue
TITLE Masters Division USA Boxing Competition Headgear, BK, M
out of stock
as of September 8, 2023 4:23 pm
Features
Full grain leather
Four-layer safety sandwich foam for unparalleled performance and coverage
Adjustable hook-and-loop safety pad and closure on the back of the head
Elastic and leather top straps and adjustable chin strap with hook-and-loop closure
Rival Boxing Competition Headgear (Blue, X-Large)
as of September 8, 2023 4:23 pm
Features
U.S.A. Boxing Approved
All Leather