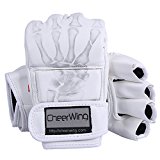 List Price: $ 13.98
Price: $ 12.98
Product Features
Made of high-quality durable material, they are durable for long-term use
Material: PU leather,Sponge
Dimensions: 23 x 12cm / 9" x 4.72"
Weight: about 245g / 8.64oz
Comfortable to wear during training; With perforations on the palms for increased breathability to make you feel cool, you will not sweat or feel hot during the training process.
Product Description
These Gloves are made of high quality thread stitching, it is tough enough and durable for long-term use.
Give you optimal striking protection in the training and competition, Indispensable appliances for daily training
Easy to use and comfortable to wear during boxing matches.
Constructed with an ergonomically-improved pre-curve design.
Special design improves comfort and safety.
Specifications:
Material: High-quality PU leather, Sponge
Size: Approx. 23 x 1